Seven Segment JUMBO DISPLAY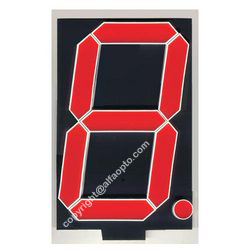 Jumbo Display is a special type of display in which individual segment and decimal point are mounted on to the P.C.B, compare to Regular Seven Segment Displays like 4.0" or 5.0". Therefore incase of failure only non working segment need to be replaced instead of replacing whole seven segment display as in case of 4.0" or 5.0". Hence cost effective and time saving.
Digit Size:
5.0"*, 6.0", 8.0", 10.0", 12.0", 16.0" & 20.0"
Colour: Red, Green, Yellow, Blue, Orange.

Features : 
Individual segments mountable on the PCB
Ultra Bright glow of the segment for long distance viewing in Ambient Light
Low cost of maintenance.
C.A or C.C can be user selectable     
Applications : 
Production Indicators on the Shop Floor
Remote Process Indicators
Digital Clocks
| S.No. | Part | Digit Size(inch) | PCB Size (mm) | Polarity | PDF |
| --- | --- | --- | --- | --- | --- |
| 01 | 60011 Ax/Bx | 6" | 111.5 X 163 | C.A / C.C | |
| 02 | 80011 Ax/Bx | 8" | 142 X 220 | C.A / C.C | |
| 03 | 10011 Ax/Bx | 10" | 180 X 280 | C.A / C.C | |
| 04 | 120011 Ax/Bx | 12" | 220 X 340 | C.A / C.C | |
| 05 | 160011 Ax/Bx | 16" | 290 X 455 | C.A / C.C | |
| 06 | 200011 Ax/Bx | 20" | 350 X 450 | C.A / C.C | |